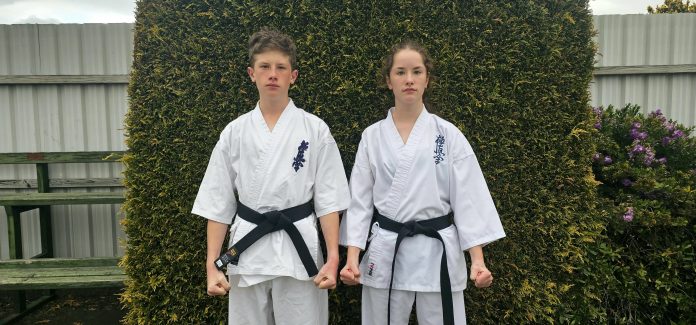 Timaru twins have punched and kicked their way to becoming the youngest recipients of a Kyokushin karate black belt in New Zealand this year.
Under the tutelage of Senpai Bob Drummond and older brother Max, Soraya and Constantine Hunt, 14, were presented with their shodan black belts at training last week.
Senpai Drummond said he was extremely proud of the pair.
''They did very well in the last year — they've really trained hard, especially over the last six months. They've just trained their hearts out.
''Just to see their skill level rise has been unbelievable.
''I think it is the belief they put in and god, they've got some beautiful kicks — I wish I could kick like that.''
The twins have been training for the last nine years, and Constantine said it all started because of their parents.
''Our parents wanted us to do martial arts. Dad did Wing Chun for a bit, so he wanted us to do a martial art since it is a discipline and a good activity.''
It was not always smooth sailing for the twins; Soraya said there were times when they both wanted to quit. ''We both wanted to go at the start and we both went through stages of not wanting to go any more, but now it has become like a community, a little family, so it's quite nice to come back every week and train together.''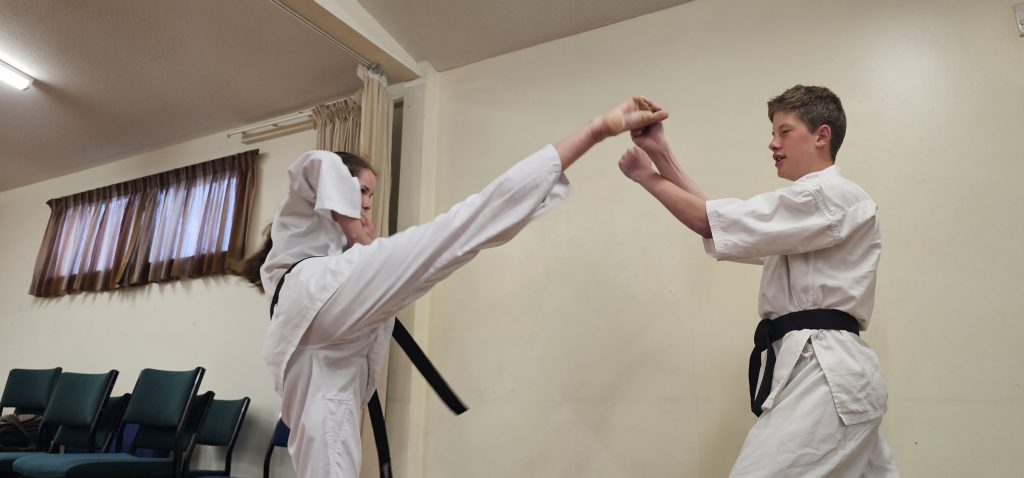 To achieve their shodan black belt, Soraya and Constantine were subjected to a four and a-half hour grading process that put both their mental and physical attributes to the test.
The grading began with an exam, they then moved on to the warm-up and basic movements such as punches and blocks, which led into the sanchin kata.
This was all about keeping concentration and focus while being whipped, punched and kicked.
They then performed 100 press-ups and 100 sit-ups in under five minutes, as well as 20 stick jumps and self-defence drills.
The twins then moved on to the fighting section of the grading, where they fought 30 90-second fights consecutively.
Soraya recalled kicking Senpai Bob in the head in one of her final fights.
''For our last fight we fought Bob and our older brother Max, who is a black belt,'' she said.
''We were sitting in Speight's afterwards and it went quiet, then Bob said really loudly 'when you kicked me in the head I was so proud of you' — it was quite funny.''
To conclude the grading they broke boards and went through the spirit test — they had to hold a knuckle position press-up for as long as the grader wanted them to, then switch to doing it one-handed on each hand.
Constantine said they did not get a result for about a week. Soraya said she was shocked and relieved to have passed. ''I'm so grateful. We put in eight years and finally got it. ''For me karate has always been a part of my life, and it was something I never thought was going to happen.
''My mindset was to get black belt and then quit because that was all it was to me, whereas now it's so much more I can't put it into words.''
She said the question often came up what would happen if one of them missed out.
''Thankfully it is now a question we can avoid,'' Constantine said.
He said it was still only the beginning of their martial arts journey.
''Shodan is really only seen as your learner's licence — you only really just know what you are doing now.''
Soraya said anyone on the fence about martial arts should go for it.
''It really pays off — don't give up because of one thing [that] goes wrong.
''It's your own journey — it's different for everyone and will make people feel different ways throughout, but you get to find yourself through it. It is a very personal journey.''
Constantine and Soraya will now turn their attention to achieving the next stage of black belt, nidan, which they can go for when they are 18.