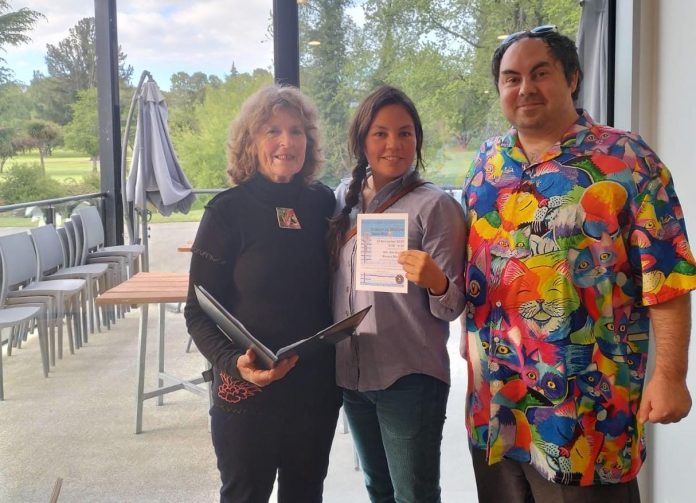 A trio of Timaru artists are looking to give local poetry a more permanent home.
Deirdre T. Lavery, Ynes Guevara and Joe Smith are gearing up to host the first South Canterbury Live Poets: Poetry in Motion Open Mic, with the hope of making the event a monthly occurrence.
Ms Lavery said after moving back to Timaru and having done performance poetry in past, she was keen to continue but could not find a regular opportunity to do so.
''I was quite keen to see if anything like what I had done in the past was happening but I hadn't come across it.
''I thought it would be quite hard to do something on my own, but I got to know Ynes and Joe from doing our artwork together.''
She said after attending a poetry event together, they knew they should try to organise something.
''We went to hear three Dunedin poets at Bay Hill Books [and] it was a really lively, good performance.
''We went to have a coffee afterwards and got talking, I said 'why don't we do a live mic type of thing in Timaru?' so we all decided to try and set it up.''
The idea was solidified even further after they saw 20 poets turn up to a national poetry day event at the Aigantighe Art Gallery.
''There seemed to be a lot of interest in poetry; people seemed to be keen to perform.''
Ms Lavery was heavily involved with Hawke's Bay Live Poets for many years, so alongside Joe and Ynes, she said they made a great team.
''The wonderful thing is Joe and Ynes are both younger and full of energy, we all felt Timaru needed a regular place for poetry performance, a place to encourage new writing and a place to share ideas.
''For the first event we'd love a mixture of people who haven't performed before, seasoned performers and people who are just willing to listen, just to encourage the love of the spoken word.''
She said they would love to have guest poets and published poets perform at the event.
''The good thing I found in Hawke's Bay was having guest or published poets really lifted the standard of local poets; it really lifts the creativity of the group.''
The goal for them is to have a first successful event, then hold a festive poetry event on December 17 and return in February for another event.
''If we could get 10 poets that would be good but if we could get 15-20 that would be excellent, whether we continue in the future all depends on how this first event goes and if people respond to it.''
The poetry night will take place at Hector Black's on Sunday, November 19.
It is free of charge and open to all, for anyone wishing to perform, registration is at 4.30pm and the night will begin at 5pm.