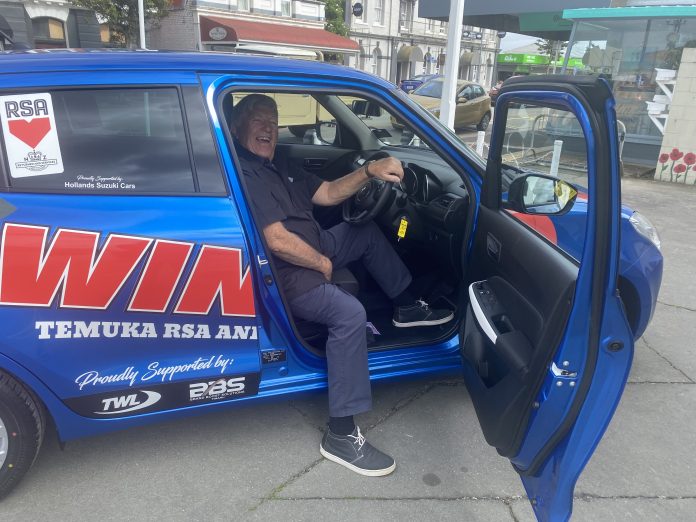 The Temuka RSA is aiming to turn a 2023 Suzuki Swift into much-needed mobility scooters for older residents.
The RSA is raffling 5000 $20 tickets to the Swift, as well as a host of other prizes.
''If you won a car for $20 it would be great, wouldn't it?'' RSA member Lyn Sherriff said.
With the raffle being drawn under police supervision on January 23, she said instead of Lotto tickets tucked inside Christmas cards people could opt for raffle tickets instead.
Mrs Sherriff felt they would make a ''far better present'', as they had better odds and all the money went to a great cause.
Organiser Frank Bray said there were other things to be won too, like a $2000 House of Travel air travel voucher and third prize of $500 of work wear, tools and vouchers.
Mr Bray said when he was deciding on what kind of prize to select he had veered away from 4WDs and other specialty cars, as not everyone had a need for that kind of vehicle.
However, the Swift could suit a range of people, allowing easy access for older people, great fuel efficiency which could be enjoyed by everybody, and the perfect car for younger ones needing to navigate a city when heading off to university. The vehicle was supplied by Holland's Suzuki Cars, and funded by the Twizel RSA. Mr Bray was thankful for their support.
''The RSA is like a family we all try to help each other.''
Co-organiser Vicki Howey said the raffle was ''Frank's baby''.
Mr Bray had the idea a couple of years ago, and — as he collected classic cars — there had been a running joke he could donate one of them to be raffled.
Mr Bray said he would have, but with no warranty on a classic car it made it tricky.
With 5000 tickets to be raffled, the profits would go to the Temuka RSA Welfare Fund.
The fund was for the benefit of the older people in the community, even people not associated with the RSA.
As it was not funded by the government, it left the RSA to raise the money alone.
They hoped to buy more mobility scooters, like the ones they already hired out to people in the community.
Mrs Sherriff said more mobility scooters to hire meant more people were out and about — ''not at home in a small unit getting depressed, but out visiting friends''.
She felt people getting out and about would save the government in healthcare spending.
Tickets could be bought at the Temuka RSA office during office hours or from RSA members.