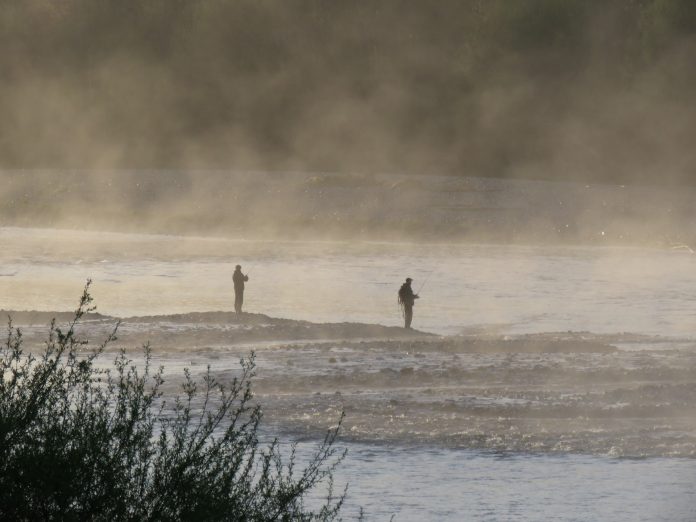 Anglers will have their rods and reels at the ready for when the new fishing season starts on Sunday.
Central South Island Fish & Game officer Rhys Adams said a relatively mild and flood-free winter had set up local rivers for some good early season fishing, although rain over the past few days was welcomed to ensure rivers remained connected to the ocean.
The Central South Island Fish & Game Region incorporates South Canterbury and the Mackenzie Basin and is home to some of the most popular places for freshwater fishing in New Zealand, such as the Tekapo, Pukaki and Ōhau hydro canals and Lake Benmore.
Mr Adams said the new season opening coincided with the middle weekend school holidays, and Fish & Game was encouraging experienced anglers to make the time to teach a young person how to fish.
''October is a great month to fish local waterways, like the Opihi River, while water levels remain elevated with spring rainfall and snowmelt.''
Mr Adams said Lake Opuha was also a favourite spot in South Canterbury for opening day, and a great spot to take children fishing in the school holidays.
''Use a garden worm for bait and have a picnic on the lake shore while waiting for a bite.''
The Opihi River offered great fishing accessible from State Highway 1 and many other access points from the river mouth right up to near Kimbell.
The Waitaki River boasted a huge population of trout and when the flows are right the fishing could be outstanding. Around the township of Kurow was a great place to fish, with several signposted river access points.
In the Mackenzie Country, the Tekapo, Pukaki and Ōhau hydro canals, Lake Tekapo and Lake Benmore were also good October fishing options.
Mr Adams reminded anglers that many other high-country waterways would remain closed until the first Saturday in November to protect rainbow trout spawning and other sensitive fisheries.
No new fishing regulations have been introduced in the Central South Island region this season, and while a new management regime called Designated Water was being introduced nationally to manage pressure sensitive fisheries, no waters had been designated in this region.
People fishing for trout, salmon and perch in freshwater require a sports fishing licence. Licences for children 11 and under are free, and junior licences for 12-17-year-olds are at a reduced price.
Licence types range from a 24-hour (one-day) licence at $24 for an adult, to a season licence for the family at $198.
A sea-run salmon licence, with $5 fee, is required to fish for sea-run salmon in the Central South Island and North Canterbury Fish & Game regions.